Read Across America week starts on Monday! Students, make sure you are bringing your Reading Log home and back to school everyday to earn tickets for prizes. Please also remember to get a picture taken of you reading at home.

Reminder: 12:30 dismissal on Wednesday, January 27th for teacher common planning.

Lennox Elementary students would like to thank our Commercial Club for the Halloween goodies. It was greatly appreciated and delicious!

Attached is a picture of Mrs. Hinker's junior kindergarten class along with Sandy Richter. Sandy normally visits the junior kindergarten classroom in person - but this year due to restrictions the Sioux Falls Outdoor Campus is being creative. Sandy will be visiting junior kindergarten to talk about science through Zoom! The past two Wednesdays Sandy talked to the junior kindergarten class about different types of trees, bark, and leaves and the habitat that lives in trees. Each student was able to make their own tree (vest).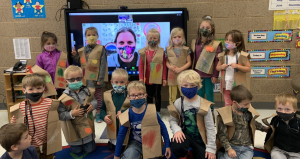 Elementary students and staff continue to impress. Fingers crossed, but we continue to be COVID free while delivering/receiving a quality education. A huge reason is the diligence of everyone wearing masks and keeping hands clean. Keep up the great work!

Homecoming is next week! Please encourage kids to participate in our dress up days. They can be found under Lennox Elementary/Documents/Tuesday Folder News. Also, please turn in the parade note that was sent home last Tuesday. This will help us keep track of students at the end of the day. Have a great weekend!

Anyone attending home football games this season will need to follow the protocols listed below: *All preK-5th grade students are required to sit with parents/guardians and be escorted to and from the concession stand and bathrooms. *All 6th grade students are asked to either sit with parents/guardians or the cheering section (mask required). There is no running around or watching the game away from the home bleachers. If you are unable to follow the protocols set in place by the school board, you are asked to stay home. Thank you for your cooperation.

What a great 1st day of school! Students and staff did wonderful wearing masks. Hoping for continued success and a fantanstic school year!

It has been such a long time, but we are excited to see smiling faces on students and staff this fall. We are also excited to be in new K-3rd grade classrooms. We still have Early Childhood-Kindergarten classrooms to add and that process should be done in January.